Without Rival + Girls with Swords + Girls with Swords Necklace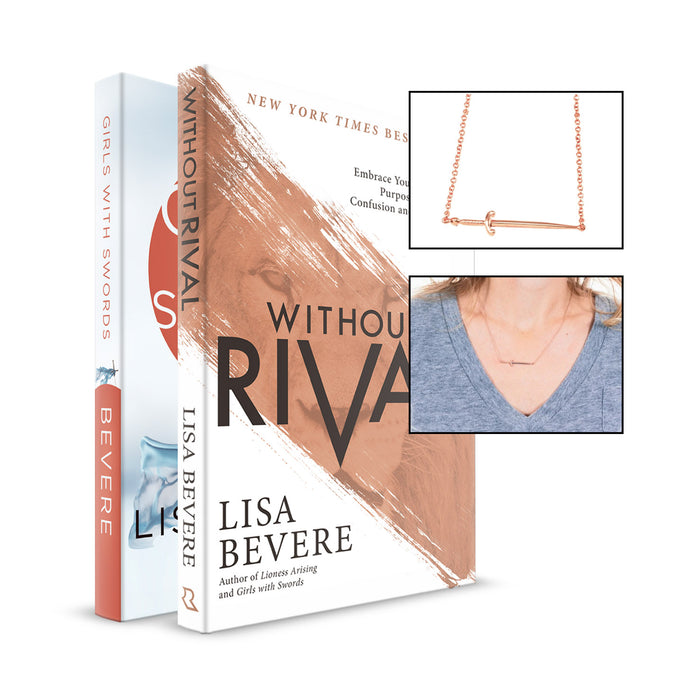 Wonder Woman Special

For the women in your life who are truly wonderful and need to know it.
Author: Lisa Bevere
Includes:
Without Rival book
Girls with Swords book
Girls with Swords necklace (rose gold)
Necklace: The pendant (4.1 cm) in solid brass, plated in genuine rose gold, hangs end to end on a flat rolo chain. Necklace total length is 18 inches. Original designs copyrighted by Messenger International.
Without Rival 
Embrace Your Identity and Purpose in an Age of Confusion and Comparison
There is a reason we look at others as rivals and limit ourselves to comparison and competition. We have an enemy assaulting our mind, will, and emotions in the hope that we'll turn on ourselves and each other. It's a cycle that isolates us from intimate connections, creates confusion about our identity, and limits our purpose.
In Without Rival, bestselling author Lisa Bevere shares how a revelation of God's love breaks these limits. You'll learn how to stop seeing others as rivals and make the deep connections with your Creator you long for—connections that hold the promise of true identity and intimacy. With biblically sound teaching filled with prophetic insight for our day, Lisa uses humor and passion to challenge you to…
Flip rivalry so it brings out the best in you

Stop hiding from conversations you need to be a part of

Answer the argument that says women are unfit, easily deceived, and gullible

Dismantle gender rivalry and work with the men in your life
It's time to step forward to live a life without rival.
Girls with Swords- How to Carry Your Cross Like a Hero (paperback book)
What if you discovered you have been entrusted with an invisible, invincible, and incorruptible weapon? Would you use it? Move beyond study and begin to wield the Word of God.
"Girls with Swords is prophetic, biblical, instructive, insightful, and challenging! This is no sweet, girly pep talk. This is powerful stuff for both women and men. We're excited about this book and the potential impact for the church around the globe."
–Judah and Chelsea Smith, Pastors, The City Church, Kirkland, WA
"As you read Girls with Swords, you'll be empowered to face your challenges with boldness and learn to live like a hero."
–Robert and Debbie Morris, Pastors, Gateway Church, Dallas-Ft. Worth
Paperback. 222 pages. Download: Sample Chapter