A Heart Ablaze + Drawing Near + Holy Spirit: An Introduction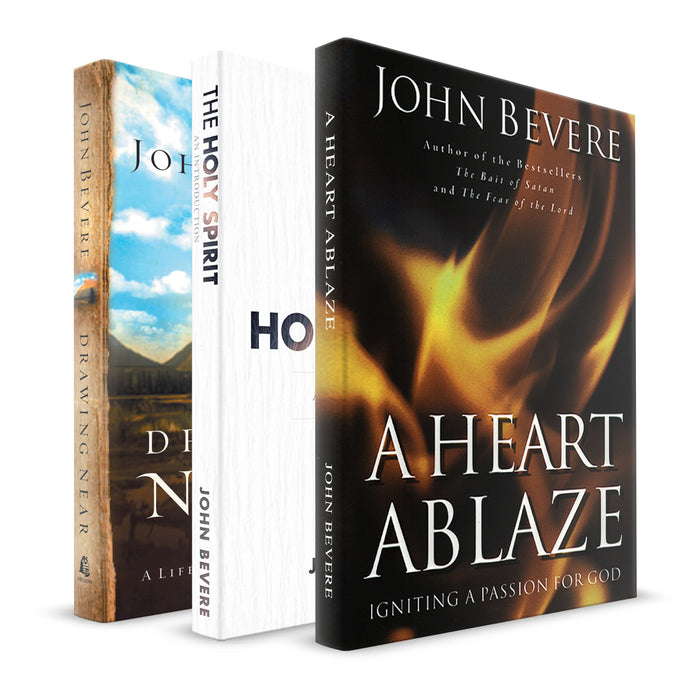 Intimacy with God Bundle
Three books to help you develop a passionate, more intimate relationship with God, including The Holy Spirit, Drawing Near, and A Heart Ablaze. If you want to go deeper, these books are a great place to begin!
A Heart Ablaze
Igniting a Passion for God
In this book, John challenges you to exchange a mediocre relationship with God for a vibrant, fiery interaction with the Lord.
Learn about God's desire to dwell in you
Pursue holiness and enter His presence
Discover what it takes to live completely sold out for God
Paperback. 192 pages. Download: Sample Chapter
Drawing Near
A Life of Intimacy with God
In Drawing Near, you will discover the most amazing invitation of all time! Learn how you can be truly intimate with the creator of the heavens and the earth.
Learn about Scripture's most amazing promise
Explore true intimacy and true worship
Discover friendship with God
Paperback. 244 pages. Download: Sample Chapter
Holy Spirit
An Introduction
The Holy Spirit is often portrayed as something "weird." But the Bible makes it clear that the Spirit is not something. He is someone—a Person who has promised to never leave your side. In this interactive book, John Bevere invites you into a personal discovery of the most ignored and misunderstood Person in the Church: the Holy Spirit.
Interactive book includes:
Daily devotions
Group discussion questions
Bonus chapter with answers to some of the toughest questions about the Holy Spirit
Don't miss this amazing introduction.
Paperback. 232 pages. Download: Sample Chapter